Social Media & Job Searches: How Can You Use LinkedIn & Other Platforms to Find Quality Candidates?
As social media continues to thrive as a central marketplace for ideas, people, and businesses, social media recruitment is as invaluable a tool as ever before. LinkedIn alone has over 900 million members in more than 200 countries, and when you combine that number with the Facebook and Twitter user bases, you end up with over 3.5 billion users across all three platforms.
This sizable number of social media users leaves endless possibilities for job recruiters trying to find candidates online–but, how do you even know where to start?Let's take a look at the benefits of using social media in your recruiting process and some tips on how to do so.
Why Is Social Media Important for Finding Quality Candidates?
Using social media is important for finding candidates because it is generally where the options are easiest to find and assess.
Candidates who possess the qualities most modern companies are looking for are most likely active on multiple social media platforms where employers have access to a good deal of information on them. Job seekers who are from younger generations or who recently graduated from college may also be more likely to use social media to find their next position. Most of these younger candidates are well-versed in technology, which is a highly desired skill set in many modern organizations.
Using social media is also important for acquainting yourself with the candidate's work and education history, as well as their personality. Employers can survey potential candidates' social pages to see what red or green flags they display that indicate how they might fit in as a future employee. You might also be able to see parts of their education and work history that they do not include on their resume.
So, if you want access to candidates during your hiring process, using a social media recruitment strategy is a must.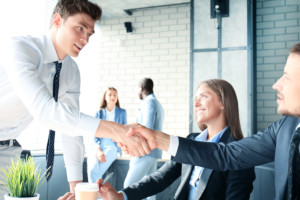 Benefits of Having a Social Media Recruitment Strategy
Most employers today are taking advantage of the many benefits that come with social media recruiting. A recent survey shows that over 84% of employers implement a social media recruitment strategy. Here are some reasons why you should too:
Access to a Larger Pool of Candidates

Using a social media platform to recruit candidates can help you expand your talent pool give you access to a larger group of job seekers. This even includes passive candidates, who are candidates not actively looking for employment but could be interested in a position at your company if they knew you had an opening.

There are many job seekers out there who are considered passive candidates, which is why 82% of organizations report that the top reason they use social media for recruitment is specifically to reach these individuals. LinkedIn offers you a free directory of millions of professionals you can network with and reach out to when looking to fill various job opportunities.

Lower Recruitment Costs

Social media recruitment is a lower cost approach to finding new hires than most traditional avenues.

Not only do social media platforms provide an effective way to reach candidates, but they are also typically free to use. Rather than spending money on promoting positions on various job boards, platforms like LinkedIn make it incredibly easy to connect with job seekers without any additional cost to you.

Ability to Find Someone Who Is Culturally Fit

During the hiring process, employers can use social media to look for candidates that fit in with the company's culture and work environment. Looking at a potential candidate's social profiles can give you an idea of what kind of personality they may have or what their hobbies are.

It's always an added bonus to find someone who is both skilled and culturally fit for your organization, which is why using social media for recruitment can be so beneficial.

Access to a Candidate's Resume Details

LinkedIn and Facebook often display a complete history of a potential candidate's education and work history, even beyond what someone would include on their resume. This can help you narrow down your search in a timely manner by filtering out candidates who don't have the experience you're looking for, and reaching out to those who do.
4 Tips for Using Social Media for Recruiting
Understanding why social media is important to the recruitment process is only the first step in finding qualified candidates. Below, we've included a few tips on how to most effectively use social media the next time you're trying to fill a position at your company.
1. Use the Right Social Platforms For You

There are an abundance of social media platforms to choose from when recruiting, so you'll need to narrow down your options to make your candidate search more effective.

First, make sure you have a good understanding of how each of these platforms work and what kind of audience they are targeting. For example, Twitter might be a good place to find people in tech, whereas Instagram might be a better place to target people in design. Based on this information, you can decide which of these social platforms is best for your desired audience.

The most popular platform that targets a wide variety of industry professionals is LinkedIn, with a large majority of recruiters using it to fill job openings. If you're wanting to find candidates through social media but aren't sure where to start, LinkedIn is a great place to begin.

2. Establish Your Company's Brand

It's best to clearly define your brand and company culture on your business' social media to communicate what you bring to the table as an employer. You want to ensure that job seekers understand your company's core goals and values so they can also determine if they're a good fit for the position.

Some ways to accomplish this are by showcasing your company's employees, benefits, unique perks, and overall personality through what you post. If you are struggling with where to start, take a look at similar companies' social media pages for inspiration.

Establishing who you are on social media is an essential step in the recruitment process, as you don't want a poorly defined brand that will confuse or turn off potential candidates when they browse your social media pages. Job seekers may use social media to judge the employer's brand, so make sure your pages are reflective of your company's culture.

3. Determine Your Target Audience

To appeal to the right pool of candidates, you'll need to determine what kind of employee you are looking for, and then do some research to get a good picture of what your ideal candidate would be interested in or motivated by.

For example, you could create a candidate persona template that gives you a rubric of the things you are looking for. Know exactly what role and responsibility you would like the candidate to fill and make sure to collaborate with others in the workplace to give yourself the clearest and most concise idea of the kind of person that would fit best.

After you know who you are looking to target, you can begin your social media search for job seekers who meet these requirements. Use your template as a guide rather than a blueprint–it's okay if a candidate does not meet every need or requirement as long as you feel they are a good fit.

4. Network and Communicate with Your Candidates

Once you find a pool of candidates that fit your criteria, you can begin to network and communicate with them on social media. The easiest way to do so is to send them a message on whichever social platform you are using. Sending a message is the quickest and most streamlined way to reach out to the modern generation of job seekers.
Using social media for recruiting can be overwhelming if you've never done it before. Fortunately, Spencer Reed Group can help with all your recruiting needs and find the highest quality candidates for your organization. To get started, contact us today!